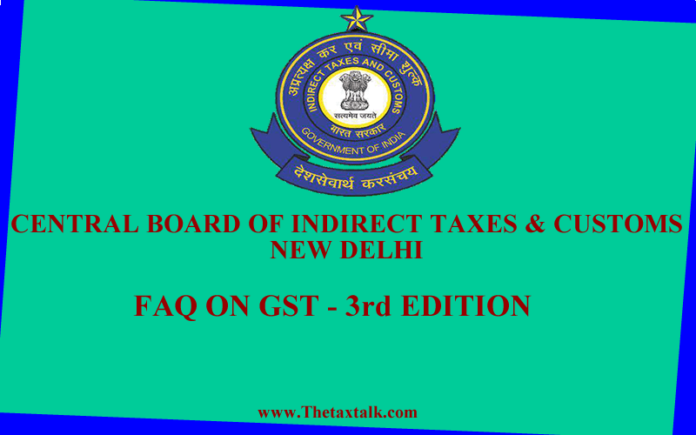 GOODS AND SERVICES TAX (GST)
3rd Edition: 15th December, 2018
(Note: Changes announced in GST Council meeting held on 22nd December, 2018 are being incorporated and the updated edition will be uploaded shortly)
The compilation of Frequently Asked Questions (FAQs) on GST brought out by the National Academy of Customs, Indirect Taxes & Narcotics (NACIN), the apex training institution under the Central Board of Indirect Taxes and Customs (CBIC), has been extremely well received. The first edition of GST FAQs was released on 21st September, 2016 by the Hon'ble Finance minister. The first edition, released well before the roll-out of GST on 1st July 2017, served to provide a ready reference to tax officials, tax payers as well as laymen. In order to serve a wider audience, GST FAQs have been translated in several languages and updated from time to time.
The second edition of these FAQs was released on 31.03.2017. A number of significant developments have taken place since the last edition. Accordingly, the third edition of GST FAQs, updated as on 15th December, 2018 is being brought out. It contains 25 chapters and more than 1000 questions. More than 450 questions have been added as compared to the last edition. I am sure that these FAQs will be of great help in dissemination of information and in spreading awareness on GST among the tax officials, Trade and public. I congratulate DG NACIN and her team and I am sure that more such publications will be brought out for the benefit of all stake holders.
Read more-